Enjoy Retirement e-Zine
Visit Expert Village to Get Answers
Volume 2 - Issue 22: 10-04-11
Table of Contents:
Editor's Comments
Expert Village to Get Answers
Retirement Hobbies - Storage Shed Plans 12x12
Readers' Questions & Answers or Suggestions
1. Editor's Comments:

Welcome! We hope you enjoy this e-zine and would like to have your feedback. The current PASSWORD to access our free e-books is:


PASSION (uppercase only)

Click here to "Like" us on Facebook


2. Visit Our Expert Village to Get Answers

Perhaps you have gone to the internet to find answers to your questions. You may be looking for a disability expert or you may want to know what might be wrong with your dog. We all have a wide variety of questions for which we need answers from time to time.

You could spend time researching and digging in the search engines like Google, Bing and Yahoo. However, there is a way in which you can ask a professional and get an answer from a pre-qualified individual and do it all online.

You should know upfront that there is a fee for this service. You have heard it before, you get what you pay for. Since you pay for this service, you ask a professional that has been previously screened for his/her knowledge on the subject matter. And if you are not satisfied with the answer you receive, you do not have to pay.

Here is how the process works at our Expert Village:
You go to the website.
You type in a question and pick your category.
You sign in and place a REFUNDABLE good faith deposit.
An Expert replies with an answer, often in minute, usually within a few hours. They will contact you by email with your answer.
You can review the answer and decide if you will ACCEPT the answer. If you do, that pays the Expert. If you do NOT accept it, then you will not be charged.



Some of the Categories for which Experts are available are:
Life & Personal
Computer & Education
Pets & Veterinary
Health & Medicine
Legal & Tax
Cars & Vehicles
Home & Appliances
Many More


Become an Expert

Many people are looking for one of the legitimate online jobs from home. This trusted website does that by providing an opportunity for someone who has the knowledge, experience, perhaps certification or degree to be qualified to become an Expert to help others and provides this needed service.

There is a procedure that one must go through to qualify, but that just ensures that the individual is indeed an Expert. If you are interested in learning more, please visit our Become an Expert page and sign up on the yellow form.




3. Retirement Hobbies - Storage Shed Plans 12x12

Let's have some fun and build a shed. I have receive quite a few inquiries about various size shed plans. Most of the ones that you might find available are for the smaller sheds.

It could be that you have limited space, but still want more room. If so, the consider a 12x12 shed. No matter what size you want, be sure to get your foundation set correctly. This will help ensure your shed lasts over time.

Even though you may have build a shed before, it is best to lay out all of the building materials ahead of time. This will ensure that you have all of the miscellaneous items, such as snap chalk, joist hangers, enough properly sized nails and so forth.

We can provide some assistance to you by offering Free Shed Plans on our site. No charge - just fill in a form and download. Please check it out!




We would like to have your input. If you have ideas that you would like us to share with our readers, please let us know. Just send in your comments to the Contact Us form.


4. Readers' Questions & Answers or Suggestions

There's an easy way to keep track of everything new at enjoy-retirement-jobs.com. Copy the link below and paste it into your Google Reader, NetNewsWire or your favorite feed reader....

https://www.enjoy-retirement-jobs.com/retirement-jobs.xml


--------------------------------------------------------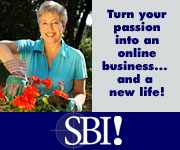 "An economist is an expert who will know tomorrow why the things he predicted yesterday didn't happen today."
~Laurence J. Peter


"Every book is a new journey. I never felt I was an expert on a subject as I embarked on a project."
~David McCullogh




Have a great October.

THANK YOU TO ALL OF OUR MILITARY PERSONNEL.

Don D'Armond