Enjoy Retirement e-Zine
What To Learn From Shark Tank
Volume 3 - Issue 28: 04-03-12
Table of Contents:
Editor's Comments
What To Learn From Shark Tank
More On Entrepreneurs
Readers' Questions & Answers or Suggestions
1. Editor's Comments:

Welcome! We hope you enjoy this e-zine and would like to have your feedback. The current PASSWORD to access our free e-books is:


PASSION (uppercase only)

Click here to "Like" us on Facebook


2. What To Learn From Shark Tank

You have probably seen the TV show Shark Tank that presents entrepreneurs pitching their products or services to successful entrepreneurs in their own right. There are several things that each of us can learn from the Sharks as we approach our own businesses.

In regard to full disclosure, the information that I am presenting here was published by fastcompany.com on March 28, 2012. Great reading.

Here are the major points and my take on it. When going before your potential investors, it is best to:

1. Understand and be able to articulate your numbers - What are your sales, what is your cost, how much margin is there, what can you expect from your next order. You may have a strong passion for your product or service and know a great deal about your product, but you must demonstrate that you understand that it is a business for profit. To capture the investor, you must show you are a business person.

2. Demonstrate that you are a good marketer - Knowing your product/service is certainly needed. When you go before your potential investors, you must also show that you can use the tools available to market it. Especially today, one must not only have a website to sell the product, but use social media to maximize exposure to potential customers.

3. Be humble - Just because you were able to make the product/service and have made a few sales doesn't mean that you can take it to the next level. It is not all downhill after you get the investor on-board. There is still much work to be done and you will get your rewards AFTER you have succeeded and not before.

4. Recognize the benefits of good timing - During your pitch to the investors, give them information they need to see that you are succeeding and can succeed in the future. Don't blast out your accomplishments, feed it to them. Get them on the track a push them along.

5. Present a good story - Every new business has a start and a reason for it. Truly understand yours and present it to the investors so they know WHY you are building your business. It is more than just money.

6. Be ready to turn them down and move on - Sure, you want investors, but if they do not present you an offer within the scope that you want, you can just walk away. If you found one group of investors, you can find more.

7. Let your personality shine - Each of us are unique, so we should let ourselves be seen in our presentation to investors. Some bland robot will not impress. What will impress is someone who shows passion, knowledge and a winning personality.

What do you think? Do you have more to add?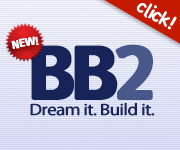 SiteSell BlockBuilder 2 is Here! It is fantastic!



3. More On Entrepreneurs

Some additional tips that I came across recently on entrepreneurs. It is all about avoiding failure. If you can do that, then you will succeed.

Before starting out, decide if you have the time, temperament and talent to really be an entrepreneur. Just think, if you don't have the time to do the work, then no way can you succeed even if you have the talent.

Search your passion. Finding the right niche is critical in building a business. If it involves something that you despise, it won't work. Even if you can just live with it, you probably won't success. Since it will take up so much of your time, your passion should be involved.

Start with enough capital to carry you through. Set up a business plan and understand how much money it will take for you to reach your customers and gain their confidence to begin making sales and growing your business.

Work hard and love your work.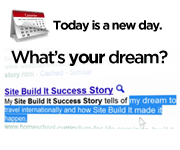 4. Readers' Questions & Answers or Suggestions

There's an easy way to keep track of everything new at enjoy-retirement-jobs.com. Copy the link below and paste it into your Google Reader, NetNewsWire or your favorite feed reader....

https://www.enjoy-retirement-jobs.com/retirement-jobs.xml



--------------------------------------------------------






Happy Easter!

THANK YOU TO ALL OF OUR MILITARY PERSONNEL.

Don D'Armond