Kids Woodworking Projects -
A Range of Plans
Time for Kids Woodworking Projects
My grandsons are at the stage where they really enjoy push toys like cars and trains. They just find so many ways to play. Actually, I can remember doing the same thing as a child.
While searching through the list of projects from Teds Woodworking, I found plans for two fun toys which are similar to the cars, but very unique. They are old-fashioned push-along toys. The feet consist of a wheel that has been cut and assembled to show only two feet at a time. The layered assembly allows for creative freedom in your choice of wood for the project.


Remember though that wooden toys must be childproof. Being mindful that toddlers are, at the very least, going to stick the toy in their mouths, it's most important that all the fixtures, fittings and materials be totally secure and nontoxic. One of the most important aspects is that the wood must be splinter resistant. With all this in mind, the plan designer suggests using multi-ply for the central layer and for the wheels, for the simple reason that it's easy to work, good to touch, strong across short grain "necks," and it glues and finishes well. This turned out to be one of the most fun woodworking projects for children.

This Section on Woodworking Plans also includes:
For children that are even younger, you might try
building a cradle
as one of your kids woodworking projects. Just think of the fun of having your child or grandchild sleeping in the one that you made just for her/him. As you can see from the diagram here, it is not a complicated design for kids furniture plans. It is the perfect way to rock your baby to sleep.
Once the kids or grandchildren are older, they will probably be ready for adventure. One way to give them a thrill is to build a fort playhouse. Teds woodworking has a great plan for a
two story fort
. This one is 120" high to the bottom of the roof line.
It provides a fun area on the bottom floor for chairs, bench or just imagination. Of course, it has an abundance of shade and protection. A ladder provides a path to the top floor that enables the child to view the surrounding territory from above. A balcony provides a great area for more exciting adventures.
With its peaked, shingled roof, it does provide protection from the sun and rain. Yet, it is designed for safety with correctly sized railings. Can you just imagine the ways in which your children or grandchildren will be using this fort?
Be aware that it will become the envy of the neighborhood, so be prepared for your yard becoming the yard of choice. That means that your children will be under your watchful eye. As far as kids woodworking projects are concerned, this one is certainly in the top five for me. I believe you will enjoy working on it as much as the kids will enjoy using it.
One more idea for you for the kids. After a fun day on the fort, they are bound to be tuckered out. I mean really tired. So get them to jump in their bunk beds that you made for them. This one combines a play area under the bed, so you can utilize the space more efficiently. There a storage shelves attached too, so you can place great books or their favorite toys nearby.
Just between you and me, I believe I had a cowboy hat like that one resting on the top of the ladder.
I hope you enjoyed this sampling of kids woodworking projects and you can find many more at Teds Woodworking.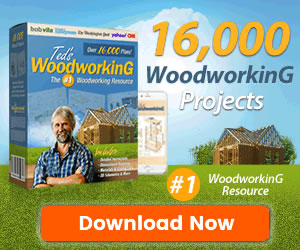 _______________________________
Learn more about shed plans and projects below:
Free Shed Plans ~ 8x12 Storage Shed Plans ~ 10x10 Shed Plans ~ 12x12 Storage Shed Plans ~ Backyard Shed Kits ~ 12x16 Storage Shed Plans _______________________________
Return from Kids Woodworking Projects to Retirement Hobbies


Return to Enjoy Retirement Jobs Home Page