T Rowe Price - Retirement Income Calculator Review
T Rowe Price Overview


The T Rowe Price retirement calculator was found to be quite comprehensive, once I used the worksheets. Although originally, I thought it was too simplistic.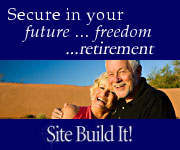 One must click on the orange circles with the exclamation point ("!") in them to get explanations of what is being considered for certain calculations. Even though results are presented in a visually interesting manner, the results page does wind up being a bit simplistic. It just shows your monthly income, including income from investments and the amount you entered as your current spending. Those are compared to the amount T Rowe Price feels you can afford to spend (that could be dangerous!).

If you hit "Compare" when the result pops up, it allows you to compare the initial result with that amount for the age that you chose versus their default age, which is 95.

Pros:



Allows for input of data for one's spouse.


Easy to input, uses monthly totals and it does allow one to save their results, if they register.


Provides a field to distinguish among being a retiree or two other stages of pre-retirement planning.


Contains worksheets that allow you to categorize your monthly income sources and spending.


Has inputs for Traditional IRAs, Roth IRAs, 401Ks, and 401K Roths, as well as taxable accounts.


It allows for investment asset allocation percentages, which is a simpler approach than another calculator I've used.


Although it's not readily apparent, their calculations do consider a 3% inflation rate.


It allows you to input the age to which you want your nest egg to last.


Cons:


One minor downside is that one must keep clicking "next" to input figures instead of having all inputs on one page.


The Investment page does not provide the capability to input projected returns (which has an important impact on growth or lack thereof).


It does not allow you to view the results of continuing to save or invest during retirement.


Even with all of it's "Pros", I was a bit disappointed in the Results page. I would have liked a more detailed analysis. However, because of all it's "Pros",
I'll give this calculator an "8".Don's Reply:
Thank you for your views on the T Rowe Price retirement calculator. We have seen that many people truly like this one. It seems to get high marks a majority of the time. Your method of listing the pros and cons helps us all get a clear view of your view of the calculator. Thanks for your input and come back and visit again.
Click here to read or post comments
Join in and write your own page! It's easy to do. How? Simply click here to return to Best Retirement Calcuator Review.