Woodwork Joints
To Be Proud Of
Your Best Woodwork Joints
Every project can have its challenges. The truth of the matter is that we all have different skill levels in our work. For some of us,
joints can be a particular problem
, or at least it can be for me.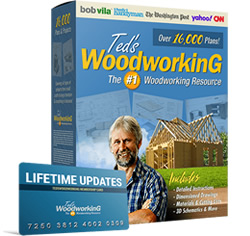 One section that I came across in Teds Woodworking plans was the great detailed information on woodwork joints.
For starters, a link was available to me that sent me to a members only page that provide quite a few woodworking videos. These videos gave me a unique perspective into how to accomplish the work that needed to be done. The categories of the videos included Arts and Crafts, Benches, Cabinets, Decks, Dog houses, Furniture, Gazebos, Pergolas, Refinishing, Table Jigs and Techniques among others. One was a designed specifically for Dovetail Joints that I really enjoyed. I have include a still-shot of the start of the video below.


This Section on Woodworking Plans also includes:
It doesn't matter if you are looking for information on dovetail joint or simple butt joints, you can find good material here. Another woodworking video that helped me with joints was the one on making drawers for chests. It is hard to show them all here, but I also enjoyed the one on table jigs for a router. This was helpful in making consistent joints.
However, one of the most intriguing discussions I found was under the section for the Making The Document Chest, a Shaker style small chest. There are detailed instructions explaining Cutting Dovetails By Hand, a small screen shot of the beginning is shown below:
Mortise and tenons are discussed too in a number of sections. For example, the wording for one paragraph in the Joiner sections is: "Rip and crosscut the remaining parts for the table base to finished dimension.
Then, lay out the mortise in the table legs. Use a router with an edge guide and 1/2-in.-dia. up-cut spiral bit to make these cuts (Photo 1). Use a sharp chisel to square the ends of each mortise (Photo 2)." Note that I have included Photo 2 here.
One of my favorite parts of Teds Woodworking is the discussions of
woodworking hand tools.
Of course, when working on a project like the Swivel Head Duck, most of the work is done by hand. In this case, you would probably use a large sloyd knife to remove lots of wood, a penknife for detailed work, and a thumb-braced paring as well. The tools should fit your purpose. However, remember that a sharp knife is much safer than a blunt one that needs to be bullied into action.
I was just blow away by the
display cabinet for hand tools
in the set of plans. This one was done in cherry and ash and I placed a screen shot of it to the left. See what I mean. This one had placed for the combination square, hand saw, chisel, plane and other items.
Of course, you can use any wood that you desire for your cabinet. By using solid-wood panels in the doors, you could store tools there. Using glass in the doors is an option as well, but does reduce storage space while providing a clear view to your stored hand tools.
I hope this discussion has given you a view of the interesting and helpful material that is available in Teds Woodworking. Take a look and I see if you agree.

_______________________________
Learn more than just woodwork joints by
viewing the shed plans and projects below:
Free Shed Plans ~ 8x12 Storage Shed Plans ~ 10x10 Shed Plans ~ 12x12 Storage Shed Plans ~ Backyard Shed Kits ~ 12x16 Storage Shed Plans _______________________________
Return to Retirement Hobbies


Return from Woodwork Joints to Enjoy Retirement Jobs Home Page