Top Woodwork Tool
Eases Project Construction
Good Woodwork Tools are Essential
You have probably run across the situation at some time while woodworking or even repairing items around the home. That is, you really have to have
the right tool for the job.
In woodworking, it means having quality tools that are sharp and sturdy. Sure, you can probably get the job done with a substitute, but it is so much easier and the result is such work of higher quality that you can really tell the difference.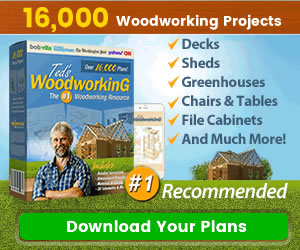 Quality woodwork tools and fantastic plans like I found in Teds Woodworking are the combination that leads to success, even for the beginner.
The great thing with the woodworking craft is that it can give everyone, even families with low income, the possibility to have some really nice furniture. And they will be able to create these items with their own hands. Although It takes time to become really skillful, each of us can start somewhere and be successful with our project. It's never too late to start working with woodworking projects and it's a fun hobby to practice as well.


This Section on Woodworking Plans also includes:
Since we are focusing on the tools themselves, I want to talk about a few that can help you
get the results you want
in your projects. These would include saws, chisels, planes and many power tools.
One thing that you might consider is constructing your own tools. For instance, one of the plans in
Teds Woodworking
is the
Classic Bow Saw
. Yes, build your own saw. The project is also called Turner's Saw and its design goes back to the distant past. This particular design is very useful for curved work.
Its design is really interesting. The blade is held under tension by using a wooden stick or tongue and a twisted twine that is wrapped around the top of the side cheeks. The curved handle design provides a flowing element that seems to allow the saw to glide through its objective.
Of course, you start off by buying your blades, getting several for various purposes. In that way, you can ensure that the wooden structure of the saw can be fitted to match the blade length.
The project consists of three parts:
Handles that need to be turned on the lathe.
The fancy side rails or cheeks that are fretted out with a scroll saw, coping saw or a bow saw.
The metal parts that make up the handles.
It turns out to be a straight-forward process.


Let's consider one of the basic and essential woodwork tools, especially for hand work - and that it the chisel. My suggestion is to be sure that you get a variety of chisels to keep on hand, as each has a specific purpose. When you need to have the right chisel, you really need it.
You can see several designs that are commonly used include basic straight chisel and the inverted swept backbent gouge. A number of manufacturers make really great quality chisels.


I wanted to include an image of one of the diagrams from Teds Woodworking of the Stanley 45, an amazing hand plane. If you really want to get the feel of things, then use the Sanley 45 to cut your moldings, groves, tongues, rounds, hollows and all other profiles.
Many people consider it one of the most beautiful woodwork tools ever invented. In fact, some say it is more like a hand-built gun than a plane.
With its sledge-skate sole runner and rosewood handle, it just seems to be at the right place at the right time. To top it off, it is covered in fancy caste motifs with chrome and nickel plate, heavy on thumbscrews, locking nuts, wing nuts, adjusting screws, cutting spurs and knobs. To keep it working as well as it looks, you should keep the irons sharp. It is an efficient tool.
Don't forget to take care of your tools, as they will take care of you.
Quality woodwork tools are essential to provide you with the results you desire in your projects. Quality plans can make the difference, as well. That is one reason that I have enjoyed those I found at Teds Woodworking. I believe that you will agree.

_______________________________
Learn more about shed plans and projects below:
Free Shed Plans ~ 8x12 Storage Shed Plans ~ 10x10 Shed Plans ~ 12x12 Storage Shed Plans ~ Backyard Shed Kits ~ 12x16 Storage Shed Plans _______________________________
Return to Retirement Hobbies


Return from Woodwork Tool to Enjoy Retirement Jobs Home Page